As such the accepted wisdom is that they must take every chance that they can in order to make the most of their time at the highest level, both financially and in their chosen sporting arena. This coupled with the fact that sport in general appears to be increasingly influenced by short-termism, means that the bigger picture appears to be considered less and less.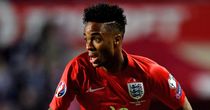 It is why Raheem Sterling was subjected to such abuse last week having admitted to being fatigued ahead of an England football match and it is why when pole vaulter Holly Bleasdale opted to take a break this season, missing the Commonwealth Games and European Athletics Championships, the reaction was decidedly mixed.
That these are two athletes are still in the relative infancy of their careers is ignored by many, as were the reasons behind their decisions. In both cases it essentially came down to wanting to reduce the risk of injury further down the line – an attempt to ensure an already short career is not brought to a premature end.
Bleasdale, 22, had returned to competition following a back injury that had ruled her out of the entirety of the 2013 outdoor season in time to retain her British indoor crown. However, as the indoor campaign progressed, it became apparent that something was amiss.
"I really enjoyed the indoors although I was coming off the back of an injury that maybe wasn't quite ready to be going back into," the Sky Academy Sports Scholar told Sky Sports.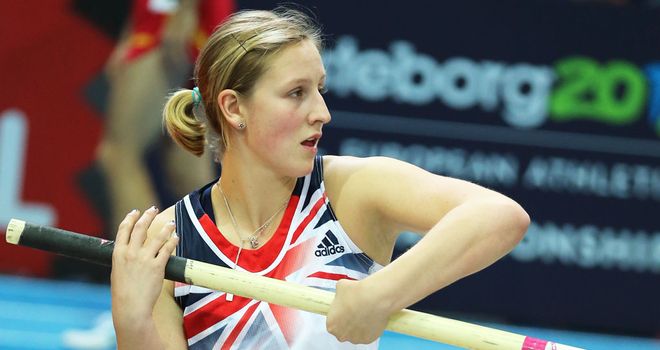 The pole vaulter will look to retain her European Indoor title in 2015
"It's quite funny with a back injury as well, it puts you off a bit. I started off really well but the more I got into the season the more it became visible that something wasn't quite right. As I got to the worlds I was overcompensating and things weren't going too well.
"I didn't have a very good competition and at the end of that is when we sat down and had a lengthy conversation about whether we should crack on but put some things in place to try and avoid the pain or have a rest, take the year out and let me regroup and re-gather myself ahead of next year."
Ultimately, Bleasdale and her team made the call to go with the latter, knowing full well that it was unlikely to yield a favourable response from many.
However, what mattered was that she, and those whose opinions she valued most, believed in what she was doing. Missing two major championships was a blow, but with two World Championships and the Olympic Games coming up in the next three years, Bleasdale had to prioritise.
With a long career still ahead of her and her peak still a number of years away, Bleasdale has no regrets about the decision despite the reaction.
"It's been mixed. I think people who know me and know athletics know it is a sensible decision because I'd say as a pole vaulter you peak between the age of 29 and 34," she explained.
"It's very technical so the more you do it, the better you get at it. Fabiana Murer, who is 34, is the number one in the world this year and then there's Jen Suhr who is 32, everyone is around their thirties when they seem to peak and jump PB's.
"So at 22, I look at that and think that I've got so many years before I peak, before I get to my best, so much more to learn. What's the point in risking an injury now that could take me out for my whole career?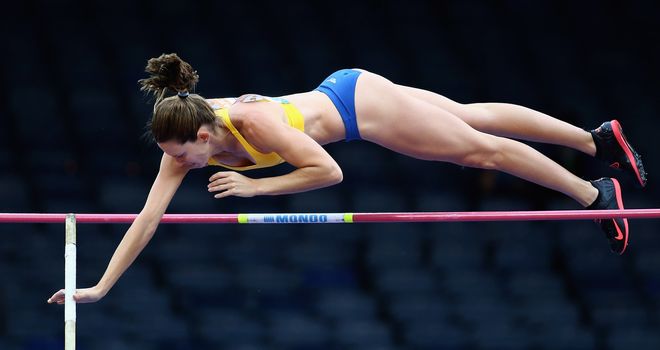 Brazilian 34-year-old Fabiana Murer is the world No 1
"If that means having to miss the Commonwealth Games and European Championships this year, then I'll do it because I've got maybe another 50 Championships over the next however many years and I know it's the best thing for me.
"Some people obviously think I'm a bit foolish for missing out on the Commonwealths and the Europeans, especially when you look at the results of both and I could quite easily have won. The Commonwealths was won in 4.50 and the Europeans in 4.65 and I've jumped 4.70 indoors three times. So the reaction has been mixed but I know it's the right decision that I've made."
It means that Bleasdale can now approach her winter training and indeed the 2015 campaign with renewed vigour and added confidence about what she is capable of when fully fit.
"It does give me confidence knowing that I was at maybe 70% and I still jumped over 4.70m three times, I cleared 4.80 but the bar jumped up (at the British Indoor Championships) – I don't know what the problem was," she added.
"It's kind of scary to me that I can jump like that and still be in a bit of pain, not be in the best place and my 4.73m is still the third best jump in the year now, after the outdoor season. Things haven't really moved on this year in pole vault which is quite good. It's quite frustrating in one way because it means me jumping 4.70 could have been up there winning the medals, but I've taken the year out to rest. I'll be ready for next year."
With the European Indoor Championships early in 2015 and the World Championships to follow in the summer, Bleasdale will have the perfect opportunities to prove her critics wrong and show the value of making short-term sacrifices for long-term gain.
From: http://www1.skysports.com/athletics/news/12040/9527081/athletics-holly-bleasdale-stands-by-long-term-approach-after-missing-2014-season