It's easiest just to follow her lead, her parents explain, which would seem daunting at best considering Charlotte Brown uses a guide dog.
But Ian and Stori Brown learned a long time ago that when it comes to their daughter, they are best-served by getting out of her way. Nothing could have convinced them of that more than this past year, when it became evident that their already legally blind 16-year-old's vision was failing.
For Charlotte, "legally blind" meant seeing through her good eye was like looking through a coffee stirrer: blurry and with no depth perception or ability to distinguish colors or shapes. The left eye was "there for decoration," Charlotte joked. And "failing" means Charlotte can now only vaguely discern light and dark.
But "failing" is just not a word one of the best high school pole vaulters in Texas generally uses.
A junior at Rains High School in Emory, Texas (about 65 miles east of Dallas), Brown is preparing to compete in the Class 3A regionals this week — the final hurdle before the Texas state meet, where last year she gained national attention and finished in eighth place. Her parents are equal parts amazed and matter-of-fact, having raised her to strive for no less than anyone else.
Still, it must be asked: pole vault?
Brown, who amazingly will also be running the anchor leg in the 4×400-meter relay at regionals, recalls discovering pole vault when her junior high track coach invited kids to pick a field event, and she instantly becoming fascinated with it primarily because everyone was shocked that a girl who couldn't see was game.
Her parents' initial reaction?
"They said, 'You're going to do what?'" Brown recalled with a laugh. "Then they said, 'We'll let you do it, but have you thought about how?'
"I said, 'Oh yeah, I'm practicing counting the steps,' and they said, 'Well, OK.' They never said, 'We can't let you do that,' and I'm grateful for that."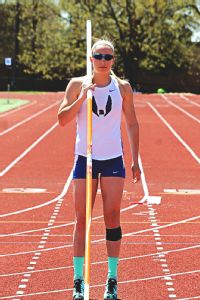 A daredevil by nature, Brown made it clear she was not interested in getting hurt.
"The No. 1 thing with my parents is safety," she said, "and I'm not going to go out and drive a car just because it's fun to do. But I stepped on the runway one day and I said, 'This is something I can do. I can figure it out.'"
It wasn't as if she hadn't had some practice in that regard.
At 16 weeks old, Brown underwent eye surgery to remove cataracts. In second grade, intraocular lens implants extended her field of vision to about 8 to 10 feet.
But in sixth grade, for no apparent reason, her vision deteriorated further.
"I realized, 'Man, I can't see the whiteboard,'" she said. "And then, I'd come downstairs for school wearing different color Crocs on each foot and my mom would say, 'Quit being goofy,' and send me upstairs to change.
"I was so young, I just didn't realize in a bigger aspect what was happening."
And yet, it is clear, she was prepared.
"We have a whine- and complain-free household," Ian said. "We don't view it as there being any other option. Complaining and whining are a complete waste of time. We all go through obstacles at work, school, home.
"Everyone has something. This is her something."
Right or wrong, the Browns say, they never sat down Charlotte's older brothers — Lachlan (a freshman on the Purdue track team) and Gannon (a senior at Rains H.S. who plays football, is an all-state power lifter and is also on the track team) — to tell them to be careful with their little sister, that her vision was weak.
Once, Stori recalled, when Lachlan was in fifth grade, someone referred to Charlotte as having "a disability."
"And he had no clue what they were talking about," Stori said. "We never used that description. It was just kind of a nonfactor, and it was not what defined her. She was a bright, sweet little girl, and this was one little detail but not the first adjective that described her."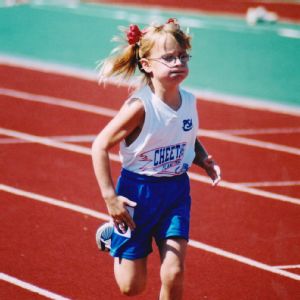 And so the brothers did what brothers do, sending their younger sister flying down the stairs inside a laundry basket, attempting to pull her loose tooth with a pair of pliers, and exposing her to every sport they played, which was virtually every sport.
"They never actually hurt me, shockingly," Charlotte said, "unless you count the blood dripping down my shirt from my tooth."
By high school, Charlotte had homed in on track. And up until this school year, she measured and counted her steps in pole vault, using an 80-foot strip of dark artificial turf laid along the runway for contrast to help her run straight and relying on vault coach Derek Smith standing on one side of the mat, counting steps.
For her running events — she runs the 200 meters in addition to the 4×400 — Charlotte was allowed to use the inside lane and used the contrast between the grass infield and the track to stay in her lane.
But not this year.
"As soon as I noticed my vision decreasing at the end of my sophomore year," Brown said, "I thought, 'What's next? What's going to make it a little easier?' It's like when I started thinking about getting a guide dog and using Braille, I wasn't looking at it because I was losing my vision. It was just a matter of, 'This doesn't work, so let's figure out what else we can do.'"
Her idea was to use a series of beepers, one where she plants her pole to guide her down the middle of the runway, and others planted every 10 to 15 meters on the infield to lead her around the track.
Her guide dog, Vador, who she got last summer, leads her to the starting line for her running events and to the beginning of the runway for vault.
Smith is still off to the side counting her steps, but now head coach Jeff Lester also is positioned at the back of the pit, whistling to guide her to the middle and signaling for her to launch.
"I thought, at least I'm never going to have to figure out a different way to pole vault again," she reasoned.
Brown qualified for the state finals in Austin last year with a jump of 11 feet, 6 inches, and she had a final jump of 10-6. She is hoping for another shot at the finals after jumping 12-6 in practice this year and 11 feet in competition.
This is after an abbreviated training period in the summer of 2013 because she traveled alone to New Jersey to meet and train Vador. She also underwent two surgeries to repair a detached retina and help regulate her optic nerve pressure.
"It's quite a feat that she is only 6 inches away from where she was last year — pretty awesome considering it's a whole new deal this year," Lester said. "To be 6 inches from where we were? I feel we're going to surpass it in Austin."
But Lester emphasizes that none of it could have happened if not for the extraordinary efforts of the University Interscholastic League, which governs all Texas high school activities, and in particular, Traci Neely, the UIL assistant athletic director who oversees track and field.
Neely said there was no precedent for what Charlotte and her school were asking for when she began working with the National Federation of State High School Associations. Neely conducted interviews with Charlotte's parents, coaches and teachers to make sure she would be safe, and with her competitors to ensure everyone was on an even playing field.
"I was well-aware that there were other types of athletic endeavors that athletes with particular disabilities could pursue," Neely said. "But I think it's so courageous for someone to ask to be part of competition with able-bodied athletes.
"I was so impressed that it really took me to a level of not just appreciating that, but wow, what a symbol of courage for all kids to try to do something like that. It kind of blew my mind, to be honest. And if she could question, I needed to see if I could make it happen."
Neely admitted there was some resistance because a few people wondered whether Charlotte was getting an unfair advantage, but she stressed it was all on a respectful level. Indeed, there could be few people left unmoved after watching Brown perform, particularly in a packed and noisy Mike A. Myers Stadium on the campus of the University of Texas last year. After the public address announcer asked for quiet so Charlotte could hear her coach, the crowd of 20,000 complied with utter silence.
"At this point, in my opinion, she's better than she was last year," Lester said. "She's had some challenges, she made adjustments and it's amazing. Last year she had a little bit of sight, so she had some point of reference. Now she solely depends on her hearing, and it's amazing how she has taken off."
Fear, she says, has never been a factor.
"I know, running full speed toward a stationary object, right?" she said with typical wit. "But everything is just exciting to me. I never thought, 'If I miss the box, I can really get hurt.' I just think, 'Well, if I miss the box and die, I'll never know.'"
She did get hurt once in eighth grade during practice when a hurdle was left on the track from the day before.
"I hit it head-on and broke my wrist, but I still finished," she said, the sense of pride still evident in her voice.
Brown has competed with broken bones, has lied about injuries so she could compete, and will pole vault until her hands bleed, her coaches and parents say.
Ian Brown recalls one conversation he had with his daughter when she was in eighth grade and competing for the first time in pole vault.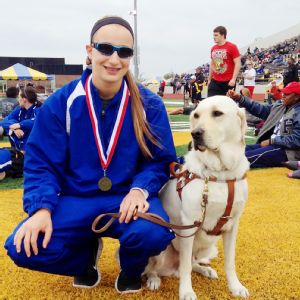 "Can you see the box where you plant the pole?" he asked.
"No, Dad," Charlotte replied.
"Can you see the bar you have to get over?" he wondered.
"Uh, no," Charlotte said.
"How about when you get over the bar, can you see the pit where you land?" he asked.
"Nope," she said.
"I was like, 'Well, I have concerns,'" Ian said. "And she was like, 'Great, now get out of the way.'"
Humor has been a constant. As Charlotte's vaults improved to 8, 9 and eventually more than 11 feet, the Browns envisioned their daughter under-planting and being "spit out on the concrete," as Ian put it.
"But then she told me, 'Dad, if you're 12, 13 feet in the air and falling through the sky and something goes wrong, good vision will not help you,'" he said.
Charlotte's other senses, like those of many other vision-impaired people, are heightened. But experts have told the Browns that Charlotte's go beyond "heightened" to "off the charts."
She tells Lester when his phone is ringing in his pocket. From across the gym. And she can detect when he's approaching by the sound his warm-up pants make when he walks. From across the football field.
"It's unbelievable," Lester said. "She can hear the revolver turning inside the piston before it fires, so we have to keep her in the blocks longer than most. She can tell the candy bar you're eating by the sound of the wrapper when you open it."
Her parents said that as she has matured, Charlotte has learned to tune out private conversations they don't want her to hear at the opposite end of the house. And the beepers she uses on the track are at such a high frequency that only she, and maybe Vador, can consistently hear them.
"Her sense of hearing is just scary," her father said. "This fall at a football game my son was playing in, we were all in the bleachers and there were bugs flying around the lights. Two rows in front of Charlotte was her grandmother and she said, 'Nanny, there's a bug on your back.' We asked, 'How did you know that?' and she said, 'I could hear it land.'"
When Charlotte decided she wanted to try basketball in sixth grade, she had the coach give her a diagram of the basketball court with all the dimensions. She then memorized them and for hours practiced running the court, counting the steps from baseline to baseline, top of the key to the half-court line, sideline to sideline.
But she did something else.
She felt the lines.
"I can feel the painted lines through my basketball shoes," explained Charlotte, who until she learned Braille relied largely on feeling the ink on paper. "So I knew when I was running out to the 3-point line or out of bounds."
As for her sense of smell, her mother said, "Charlotte can tell you what kind of shampoo you use, which deodorant you wear, your brand of makeup, your toothpaste. She can go to the soft-drink aisle at the store and pick out her favorite flavor of Gatorade by smelling it through the plastic."
But it is far more than a party trick.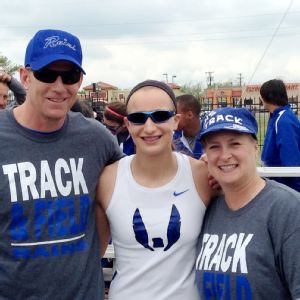 "I'm so proud of her because it means someone's not having to make those decisions for her," Stori said. "We pick our own things; I'd just hate the thought of someone doing it for her. We have an appreciation and gratefulness that she's able to make those decisions herself.
"One of the biggest things we wanted for her was her independence, and I think she's got it."
There are times when competitors or even the occasional kid in one of her classes at school will suddenly say, "Wait, you can't see?"
To which, Charlotte responds, "Um, I have a Seeing Eye dog."
And then there are other times, she said, "when it's not really relevant." Like during last year's area track meet. After she won the pole vault, the official running the event asked if he could announce to the crowd why it was so inspiring and cool that she won.
"In a way, it's such an amazing compliment that I may have inspired people," she explained. "But in that moment I sat back and said, 'Thank you so much, but it's really not relevant.'
"It's just not always important. The fact that I can't see is not who I am. I just happen not to be able to see. I don't go up to people, 'Hi, I'm Charlotte, I'm blind.' Of course, now that I have Vador, it's a little more obvious and if people find out, fine."
Brown said she is keeping an open mind about college, and recruiters can't talk to her until after this school year. Ranked No. 5 academically in her Rains H.S. class of 121, she is considering the Ivy League and has received letters of interest from Cornell, Yale, Brown and Stanford.
And when the idea of competing in the Paralympics was brought up, she replied, "Possibly the able-bodied Olympics. Every competitive track athlete is glued to the TV every four years to watch. Who knows? Maybe one of these days, it will be me."
But aren't there moments of "why me?" Ever?
"I suppose that would be normal," said Brown, thinking it through. "When I talk to other people who have lost their vision, I do notice they'll say, 'Some days you do wake up and say this kind of sucks.' But honestly, I've never felt that way.
"I think that I'm so involved in school and athletics, while I suppose I can say it sucks not knowing what's going to happen with my vision, if I can't control and change what happens, I might as well adapt with a smile on my face."
Brown said she envisions a possible career in coaching or special education, maybe working with kids who have autism. She also could have a career in public speaking, talking about her experiences to elementary school students and adult groups; she spoke to a national IBM conference of about 400 executives two years ago.
"I was a little bit nervous," she said. "But it was very nice, very cool, definitely a big experience. I don't know if I can inspire a whole nation or anything like that, but if I can inspire one person, it's all worth it."
It's the one-on-one moments, she said, that stay with her.
"I think one of the biggest ones — because she really hit close to home with me — was [Lester's] stepdaughter, Hallie, who is 9 and legally blind. She thinks I'm the coolest thing, and it's great to think that if she had any doubts about 'if I can do this or not,' I can tell her that it doesn't matter.
"She's learning at a very young age like I did, it doesn't make you who you are, it just happens to be part of you."
So accomplished is their daughter that sometimes Charlotte's parents are asked if they wish she could see.
"It's a trick question," Stori said, "because what parent wouldn't want to make things easier for their child? But at the same time, if I say that, then I'd make her feel something is wrong, that she's not getting to do everything she wants to do.
"So what I believe is that Charlotte is meant to be Charlotte and that she would not have taught the same lessons to a lot of people, including her family, if she was not the way she was."
Of course, the question did not need to be tricky at all, for once again all her parents needed to do was to follow their daughter's lead.
"We were sitting on the couch one day recently," Ian said, "and Charlotte asked me, 'Dad, if you could have one wish, what would it be?'
"I didn't hesitate. I said, 'I'd give you my eyes.' And she hesitated even less and said, 'I don't need 'em.' And you know, she really doesn't."
From: http://espn.go.com/espnw/news-commentary/article/10827733/espnw-soaring-spirit-helps-charlotte-brown-blind-pole-vaulter-texas-succeed-track-off?fb_action_ids=10152345070550926&fb_action_types=og.likes
*** The articles that we post on this website are searched from the Internet and don't reflect our views.  VAULTER Magazine LLC. is bringing the pole vault news to the reader in one central location. ***