Clinics for high jumpers, throwers and runners are common these days. But how often do you see a symposium and competition just for vaulters? OK, maybe at Reno. But what if it's free? That's the plan announced this week by Southern California's Doug "Bubba" Sparks, who has access to Dana Hills High School facilities. Bubba writes: "I will be hosting the first annual Masters Pole Vault Symposium and Meet on Saturday, June 21, 2014, in Dana Point, California. Yes some may have to travel, but remarkably nearly 2,000 vaulters and coaches find their way to Reno each year. Where would you rather go? Reno in the winter or the beach in Southern California in the summer? Discussions on training, technique, equipment and injury management will be 9 a.m. to noon, with a meet to follow at 1. BBQ and party at my house afterwards. Dana Hills High Schoolalways has an afternoon tailwind and summers at the beach are not hot. Cost of entry is $0 – NADA – NOTHING! Experience and fellowship – PRICELESS!! Reasonable rates are available at the Dana Point Marina Inn."
I wrote Bubba for more details, and he graciously responded:
Masterstrack.com: How many pits?
Bubba Sparks: We will have access to two. I work with the kids at Dana Hills HS 2-3 times a week from June 1 through Reno, so they are kind enough to let me have access to the facility. Their head coach, Craig Dunn, was a vaulter for DHHS and a tremendous supporter of the event.
Google Earth our facility and you will see that it is the only one with runways angled across the top of the curve section. Only a vaulter/coach would design a facility like that just so the vaulters have a tailwind. He's a remarkable coach and man! I couldn't be more fortunate!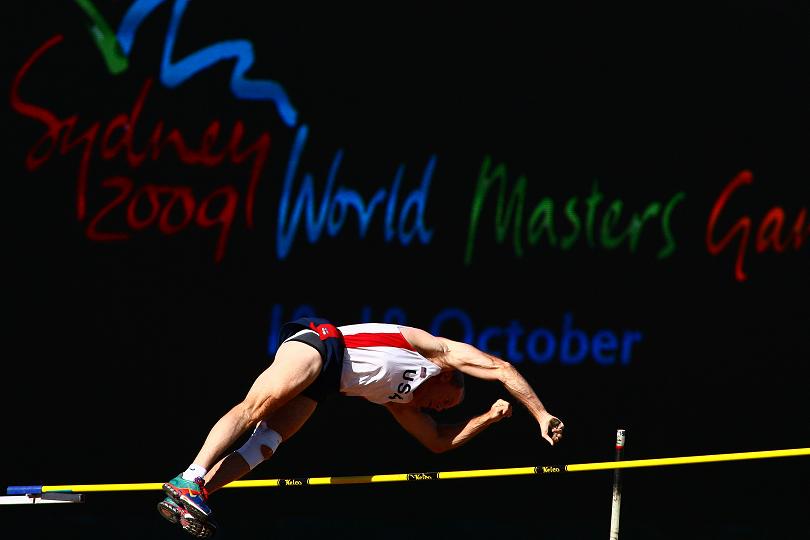 Bubba clears bar by a mile down under.
Who will coach?
Mike Bartolina is my lead coach. Mike has coached on the national and international level for years including developing his ex Erica Bartolina to make our 2008 Olympic team.
I will [coach] but the purpose is more to share what has worked for all of us in the area of technique, training, poles/equipment and injury management. I was the vault coach at UC Irvine for 14 years, and a 1996 Olympic Coaching Technician who's job was to spend five weeks helping at the practice pole vault pit at the Olympics in Atlanta.
Anything the Olympians and their coaches needed we made happen. I have also been on the business side of physical therapy since 1987 and have had many elite athletes come to town to work out injury and training issues over the years.
Any celeb vaulters expected (open or masters)?
Two-time Australian Olympian Simon Arkell (5.80 – lefty WR) lives in the area and wants to help out. I'm sure there will be more.
USATF sanctioned? Who will officiate?
Haven't gotten that far but I have access to many great USATF officials and will certainly use them.
If the meet is free, does the symposium have a cost?
Everything will be free including the BBQ afterwards. They can bring their own drinks but I will supply everything else. I want it to be a fun experience. Some will have to pay to travel, so I don't want the added expense of a fee to join us.
How did you come up with this event?
I'm not sure it's a good thing, but I get emails every week from masters vaulters asking me about injuries, training, poles and technique. I know the National PV Summit in Reno had humble beginnings but is Disneyland for vaulters. I wanted us to start our own sector devoted to issues that concern vaulting as we age.
What's your injury status? Will you jump as well?
I exploded my hamstring in Reno. The worst ever. I took my first jump 30 days afterwards even though I can usually jump at a low level 2-3 weeks after. I will vault at the Air Force Academy next weekend and then nationals in Boston. Yes, I plan to jump in our meet.
My former orthopedic surgeon, the late and great Glen Almquist, used to say that, "To be an elite athlete is to train on a balance beam. If you fall off of one side, you get hurt, and off the other you don't make progress. The older you get the more narrow the beam becomes AND the longer the climb back up."
The main purpose for this event is learning to manage the beam while sharing the fellowship and brotherhood of vaulters.
From: http://masterstrack.com/2014/02/28355/
*** The articles that we post on this website are searched from the Internet and don't reflect our views.  VAULTER Magazine LLC. is bringing the pole vault news to the reader in one central location. ***