AUSTIN, Texas — No one had to tell Charlotte Brown they were giving her a standing ovation. She heard them stand before they cheered, just like she felt their disappointment before the groan that came seconds earlier.
Although a tie for fourth place in the Class 3A girls' pole vault at the UIL (Texas) State Track & Field Meet was not what those familiar with Brown's story may have wanted for her, it would be missing the point to call Friday anything but a success.
It was a day of collective images for the 16-year-old junior from Emory Rains High School, who despite her blindness, seemed to lead those who came to watch and came to cheer and ultimately, came away inspired.
From the blushing, starstruck freshman who was to compete Saturday in the 1A state meet and could barely bring herself to ask for a picture with Brown to the blind man from Austin who came to Mike A. Myers Stadium not to watch but to meet Brown and give her a walking stick he carved by hand, Friday was as much about Charlotte the role model as Charlotte the athlete.
"I didn't intend to be a role model, but if I can be one and I can inspire just one kid, then every bad day jumping and every bruise along the way was worth it," she said.
She hasn't had many bad days jumping, improving on her eighth-place finish and 10-feet-6-inch vault last year to fourth place and 11 feet this year. That it came as her eyesight deteriorated to almost total blindness since the 2013 state meet, and after two eye surgeries last summer and a debilitating leg injury this winter only made her accomplishment more impressive.
"I tell the Charlotte Brown story at least once a day," said Larry McFarlin, vaulting coach at Paris High School and former NAIA vaulter. "It's a miracle what she does. When she's running down the runway counting steps and she doesn't know where the box is or where the bar is or where her body is in space, it magnifies her accomplishments tenfold.
"It's one of the most technical and difficult and dangerous event in athletics, and she chose that one. … If some kid walks up to me with attitude, I say 'Let me tell you about attitude.' Charlotte doesn't have a clue the lives she has touched."
McFarlin is not the only coach in Texas who uses Brown, who had infant cataracts and declining eyesight throughout her life, as an example.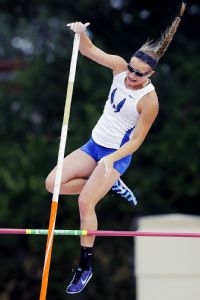 "I always have a problem with looking at the bar, so my coach will just hit me over the head and he's told me he wants to blindfold me and make me vault," said Friday's third-place finisher, Lindsey Sechrist of Spring Hill High. "Charlotte definitely makes you realize 'OK, if I don't look at the bar, I'm not going to die' because she doesn't.
"She's amazing, I love her and I'm so glad I got to vault with her the last two years."
Led around the track by her guide dog, Vador, who has been her constant companion since May 29, her 16th birthday, Brown is guided down the runway and to the box where she plants her pole by a high-pitched beeper and her two coaches positioned next to and behind the mat.
This was an adjustment made since last year, when she used a strip of indoor-outdoor carpet to provide contrast and keep her going straight down the runway.
"Most people might think it's frustrating to have to change all the time, but essentially, that's what life is," she said. "Life is changing all the time. So I treat it as more of a challenge, and when I lost the rest of my vision, I just looked at it as another opportunity to overcome something bigger. I thought, on the bright side, I can't get any blinder, so the method I've figured out should work the rest of my vaulting career."
Though the unsinkable kid shrugs off most setbacks, Brown missed training in January, February and part of March after gashing her left shin to the bone doing box jumps.
"The way she bounced back this year was nothing short of amazing," said Rains athletic director and vault coach Derek Smith.
Traci Neely, UIL assistant director of athletics who was instrumental in making sure Brown was able to perform with modifications like the beeper and her coaches next to the pit, said she could barely make it around the track Friday without being stopped every few steps by someone telling her how inspiring it was to watch Brown.
"It's great for the state, great for pole vault, great for people with disabilities," Neely said. "It reminds all of us who have our sight our whole lives how lucky and blessed we are."
Rains coach Jeff Lester called it a gold-medal day.
"In a world where negative press unfortunately gets most of the attention," Lester said, "to have something so good occur where everyone can cheer and get behind it, I couldn't ask for a better deal."
Though Brown can't officially be recruited by Division I schools until after her junior year, she has received letters of interest from several colleges.
"Academics are very important to me, so I'm going to go to the best school I can find academically, and if I can run track on top of that, that would be icing on the cake," she said.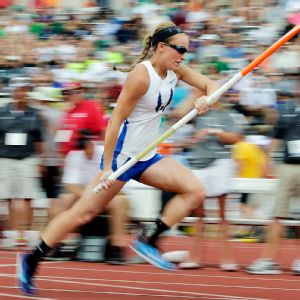 Ian and Stori Brown's oldest child, Lachlan, who just finished his freshman year at Purdue, where he runs track, was at Friday's meet along with Charlotte's other brother Gannon, a football player, power-lifter and track athlete at Rains, who plans to attend Colorado State next year.
Lachlan finished his last final on Wednesday, begged his parents to fly him to Austin and arrived Friday morning.
"He texted me Thursday and said 'I'm excited to watch you,' " Charlotte said. "So I said, 'Are you going to watch online?' and he said, 'No, I'll be in the stands.' I … turned to my dad and said, 'Is Lachlan coming to Austin?' and he said 'Surprise.' "
The family joked that it was as close to a surprise for Charlotte as they are capable of springing. Her exquisite sense of hearing makes keeping secrets almost impossible, and it even spoiled her brother's arrival at the track on Friday.
"It's hard for people to sneak up on me because I know everyone from their walk," she said. "So he was coming around the tent and I heard him from probably 800 meters away, and I was just trying to contain myself because I knew if I said 'Here comes Lachlan' nobody would know what I was talking about. So I just tried to contain myself until he was within eyeshot of other people."
Gannon said he "never gave it a second thought" that his sister was any different from anyone else, but he did recall when Charlotte was sick with ear infections as a kid and had recent problems with vertigo.
"I worried that something would happen to her hearing, and what then?" he said. "She has unbelievable hearing, which continues to blow my mind. She can actually recognize me by my heartbeat standing next to me. She says I have a slow, dull heartbeat. I've learned to stop questioning her. Two years ago, we were walking into the district meet and she stepped around a puddle.
"I said, 'How did you know it was there?' and she said 'The wind was blowing and I could hear it on the water.' The next day the wind wasn't blowing and she walked right through it."
The stadium's public-address announcer asked the crowd for quiet in the vault area when Brown was jumping Friday so that she could hear the high-frequency beeper, but she heard it through ear plugs, and said her ability to block out noise is as keen as her hearing.
In the stands, family and friends wore "Good Luck Charlotte" T-shirts complete with an action shot of her jumping.
"We're thrilled, excited and grateful," said Charlotte's mother, Stori. "She came in, she did her best, and to fight her way back this year and get back to this level of competition, it's really a celebration."
That thought did not take long to settle on her daughter.
"When my back hit the mat and I heard the bar fall down, I knew I didn't make it, so of course that's a little discouraging," Charlotte said. "That's a height I had made before so I wanted to make it again, and of course my initial reaction was 'Man, I wanted to make that height.'
"But to hear everyone stand up and to hear Coach Smith cheering and to hear Coach Lester — the first thing he said when I hit the mat was 'We're proud of you, we love you' — that's so great to hear, and then I heard everyone stand up. It was a shock to hear all that support, but I appreciated that definitely. I really do."
From:  http://espn.go.com/espnw/news-commentary/article/10909454/espnw-blind-pole-vaulter-charlotte-brown-inspires-fans-coaches-competitors-fourth-place-tie-texas-state-track-field-meet